TEKMASH® PROCESSING TECHNOLOGY AND RELEVANT EQUIPMENT

TEKMASH® group developed a soy processing technology (which can also be applied for wheat and peas processing), where grinding and thermal processing is carried out in anaerobic conditions in specially designed nozzles with the utilization of hydrodynamic phenomena. Steam and conventional heat exchangers are not used in this process. The equipment operation principle is based on a direct energy transformation with efficiency factor not less than 90%.
The crushing, heating and mixing processes of the content of equipment reservoir are carried out simultaneously by means of continuous circulation in the following contour: reservoir-pump-nozzle-reservoir.
Soy beans are effectively crushed In the circulation process by colliding streams, micro hydroblows in specially designed nozzles, as well as by friction of soy beans particles against one another.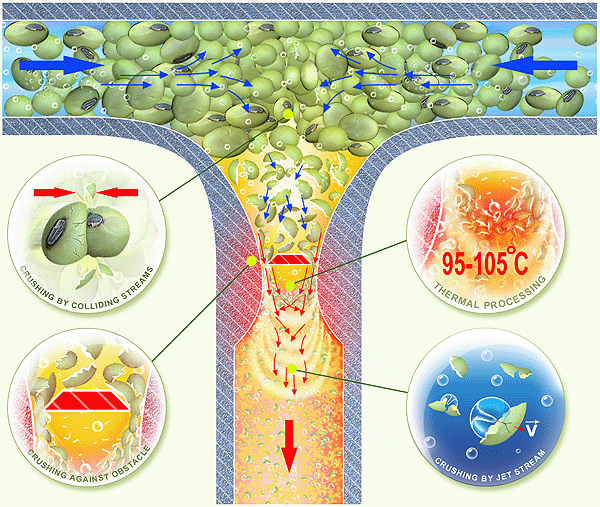 Learn more about the jet stream here.
The processing unit comprises an electric- or diesel-driven pump, a reservoir where the ingredients (soy, water and additives) are loaded and a special nozzle, where soy crushing and mixture heating occurs. Automatic sensors control the required processing temperature.
Technical specifications of TEK-SM for producing wet feedstock for husbandry
Parameter

TEK-1SM

TEK-2SM

TEK-3SM

TEK-4SM

Electric motor wattage, kW

11

15

22

45

Temperature of thermal processing,
°F
°С


221-230
105 -110


221-230
105 -110


221-230
105 -110


221-230
105 -110


Soy paste/soy milk max. production capacity
lbs/hour
kgs/hour


154/462
70/210


220/660
100/300


330/990
150/450


704/2,112
320/960


Processing cycle duration, min.

60

60

60

60

Dimensions,
inches
mm


42.7x22.5x65
1840x570x1650


81.5x26.0x65
2070x660x1650


84.3x35.5x67
2140x900x1700


96.5x37.8x86.7
2450x960x2200


Weight,
lbs
kg


1,056
480


1,100
500


1,364
620


2,112
960


Operators

1

1

1-2

2
Soy paste production procedure for TEK-SM equipment
The processing technology cycle starts with a soaking of rinsed and cleaned beans. The beans soaking time varies from 6-12 hours (cold water) to 2-4 hours (hot water).
The soaked beans are loaded in the unit reservoir together with the water left over after soy soaking.
The reservoir lid is closed and the unit is turned on.
In the circulation process the reservoir content heats up quickly. When the temperature reaches 221°-230°F (105°-110°C), the unit is automatically switched off and the mixture matures for 1020 minutes for the most effective decomposition of harmful compounds contained in soy.
The discharge of ready-to-use product (soy paste) is carried out through the positive reservoir pressure. After the discharge the unit is ready for a new processing cycle

**

.
The technological cycle duration is about 1 hour.
---
* For the freshest product it is recommended to prepare soy paste 2 times a day. The total time for raw soy preparation, cooking and equipment disinfection does not exceed 3-4 hours.
** at the end of equipment operation, it is filled with water and disinfected by the water heated to the boiling point.
---
The technology does not require beans shelling, and the water left over after soy soaking is not drained away, but used for soy paste preparation. That is why all nutritive ingredients solved in water (proteins, saccharides, vitamins) get to the end product. This means the suggested technology is wasteless and environment friendly. Since no steam generators or heat exchange equipment is used, the amount of electricity required for the processing of 1lb of soy beans is only 0.23-0.27 kWhour.
Taking into consideration the reduction of energy consumption by 4-5 times comparing to the conventional wet processing in the soy cows, no environment pollution, it becomes evident that the developed technology has very good prospects for broad introduction, especially in CIS countries.
Additional advantages:
the equipment is self-cleaned, i.e. the internal surfaces of the equipment do not require mechanical cleaning;
the equipment can be used for water heating or steam generation required for other technological purposes including the equipment disinfection.